The southeastern Italian region of Puglia has no shortage of amazing places to visit; Bari, Monopoli, Alberobello, and Ostuni, to name but a few. In this post, I've written about the best things to do in Lecce – one of my favorite Puglian towns.
Lecce is a beautiful, historic city that's often referred to as the "Florence of the South" due to its abundance of Baroque architecture. In addition to admiring the gorgeous buildings in its historical center, there's a wealth of other fun things to do in Lecce.
This charming town also receives fewer foreign tourists than many of the other famous locations in Puglia. It's a great place to discover if you're after a taste of authentic southern Italian culture and is somewhere that I'd happily return to time and time again.
Best Things To Do in Lecce
Within this article, I've included a selection of sights and activities that will appeal to a wide range of people; whether you're traveling solo, as a couple, with kids, on a budget, or as part of a wider trip to Italy, there's something of interest here for you.
So, without further ado, allow me to introduce you to my pick of the top things to do in Lecce.
1. Take a Walking Tour of the Centro Storico (Historical Center)
One of my favorite ways to introduce myself to any new destination is to take part in a walking tour, and Lecce is no exception. Having a local expert show you around the city and teach you about its rich history is a great way to familiarize yourself with this fantastic place.
There are a few different walking tours to choose from, but I recommend booking this one. It's run by a friendly and knowledgeable local guide who will show you around many of the top places to visit in Lecce, including the Piazza del Duomo, the Teatro Romano, the Piazza Sant'Oronzo, and the Basilica di Santa Croce.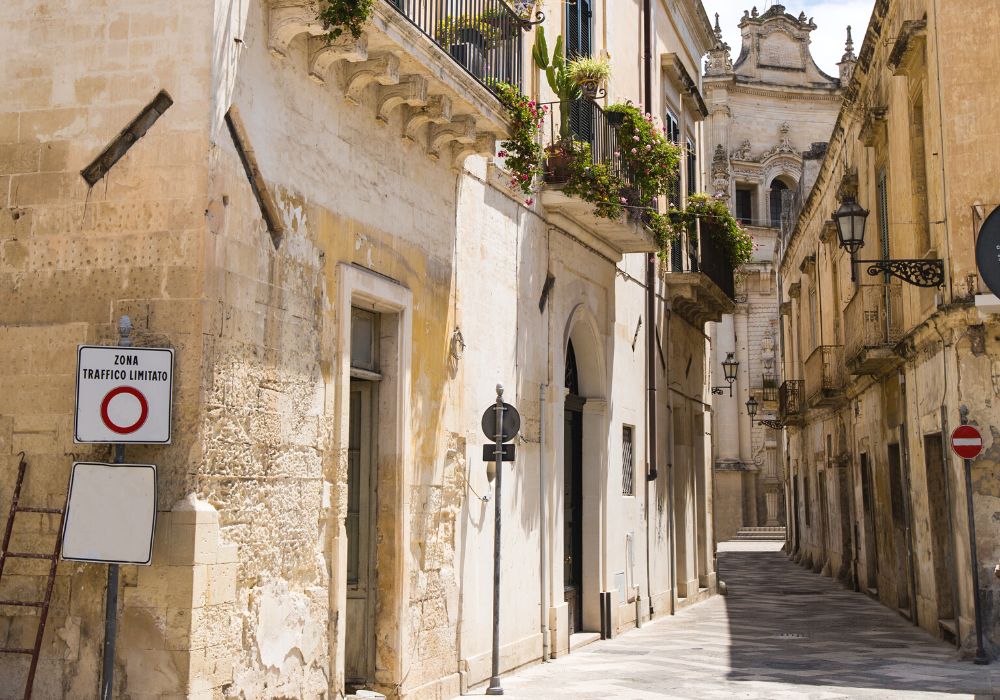 I've included more information on each of these places, as well as many other Lecce attractions, below.
2. Admire the Teatro Romano (Roman Amphitheater)
Lecce's Roman Amphitheatre is an incredible example of ancient architecture and engineering. It's located in the very center of the historical center of Lecce and is one of the city's major highlights.
Built between the 1st and 2nd century AD, the amphitheater was originally used for gruesome gladiator fights and other public shows. However, after the fall of the Roman Empire, the huge structure fell into disrepair and eventually became buried. It was only rediscovered in 1901, during the construction of foundations for a bank.
Today, the ruined amphitheater is used for concerts and theatrical performances which are held from time to time. If you're visiting whilst one of these is on, I strongly recommend getting tickets. Attending a live performance in an almost 2,000-year-old Roman amphitheater has to be one of the most unique and memorable things to do in Lecce, Puglia.
3. Soak Up the Atmosphere in Piazza Sant'Oronzo (One of the Best Free Things To Do in Lecce, Italy)
The Piazza Sant'Oronzo is one of the most famous squares in Lecce. It's home to a number of important monuments, including the Baroque-style Town Hall, a mosaic of a female wolf (a symbol of ancient Rome), and an impressive column topped with a statue of Saint Oronzo, the patron saint of Lecce.
After a busy few hours of sightseeing in the city, this square is an ideal spot to sit, rest, and partake in a little people-watching. It's a popular meeting point with locals of all ages and has a wonderful, buzzing atmosphere at most times of the day and well into the evening.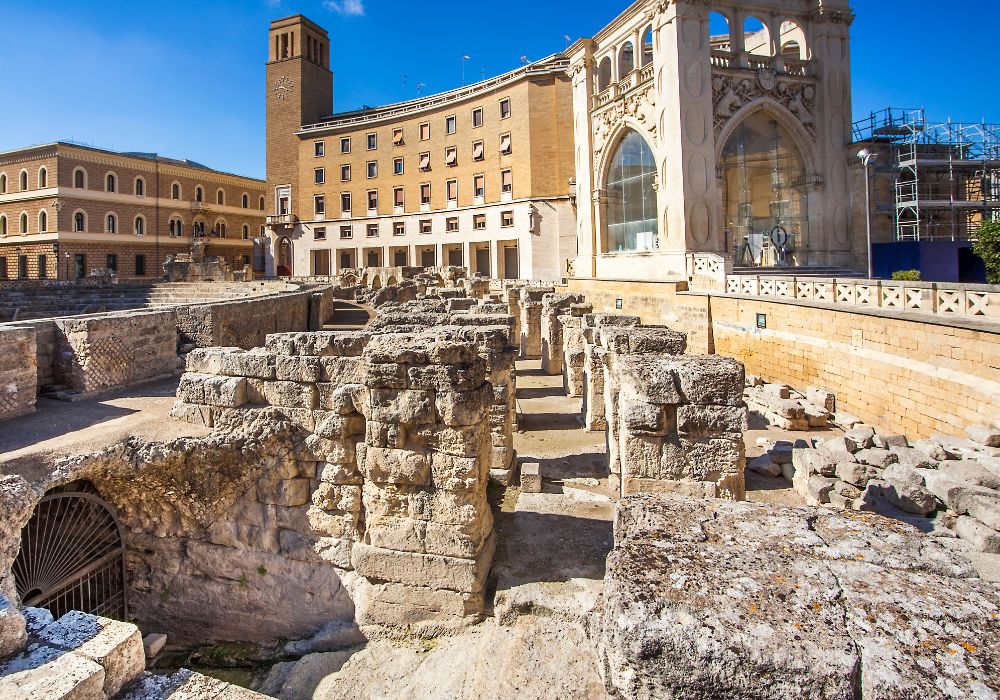 Lingering here with an after-dinner digestif is one of my favorite things to do in Lecce at night. If you're lucky enough to be in Leece during the festival of Saint Oronzo (Festa di Sant'Oronzo) at the end of August, this plaza is a focal point of the celebrations, with fireworks, parades, and costumed reenactions of stories from local folklore.
4. Feast on Local Street Food
I absolutely love the food in Puglia, and Lecce is particularly renowned for its amazing street food. You'll find vendors selling a variety of local delicacies such as focaccia, sfogliatelle (pastry filled with sweet ricotta cream), and panzerotti (fried pastries stuffed with mozzarella and tomato).
The best way to sample and learn about these delicious foods is to join a street food-tasting tour, where you'll get the opportunity to taste a range of savory and sweet Puglian specialties.
In addition to taking a food tour, there's also a food market in Piazza Libertini most days of the week to attend, (although it's best to visit on a Saturday as that's usually when the largest number of vendors attend). Here, you'll find a range of stalls selling all sorts of mouthwatering dishes and local ingredients to try.
5. Join a Traditional Cooking Class
If you'd like to learn how to make some classic Puglian dishes at home, I recommend joining a traditional cooking class. There are several different classes to choose from, which are held inside a beautiful private 17th-century palazzo.
You'll rustle up a range of local specialties and then feast on your creations along with a selection of fine wines. All food and drinks are included, and it's one of the most fun things to do in Lecce for couples.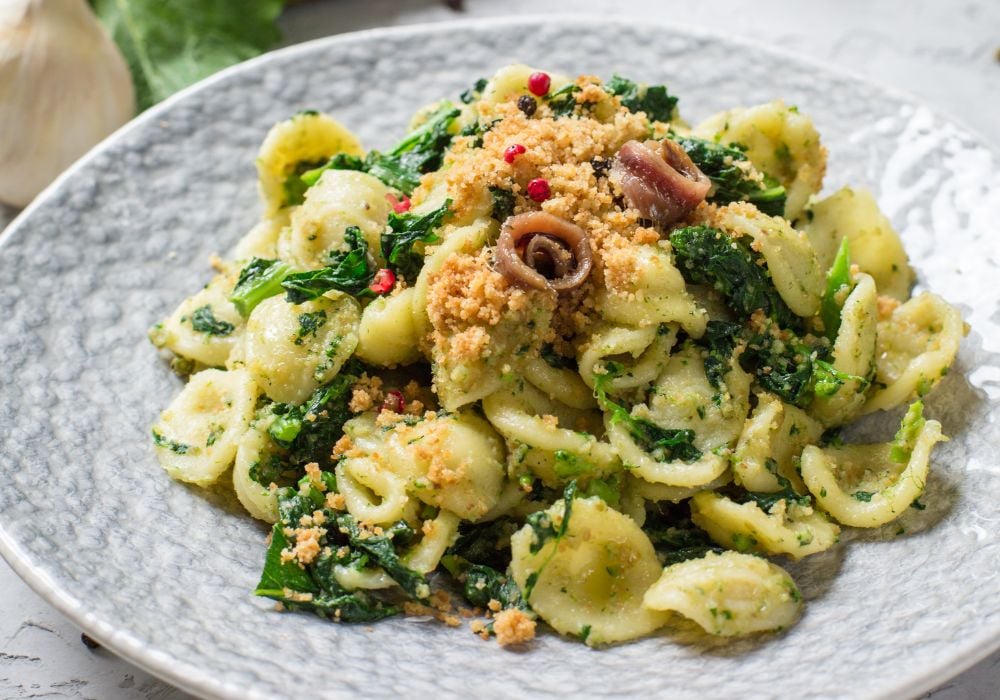 For those who'd prefer to learn how to make fresh orecchiette pasta (which translates as "little ears", due to its distinctive shape), check out this masterclass which also includes wine tasting.
6. Visit Local Wineries and Try Wine Tasting
The area around Lecce produces some delicious wines that complement the local cuisine perfectly. Lecce wines tend to be rich and dark, with notes of cherry and oak.
Salice Salentino is one of the most popular varieties, made with Negroamaro grapes which are native to the Salento region and almost exclusively grown there. There are several wineries located on the outskirts of Lecce, which are fantastic places to visit to learn about (and taste!) the local varieties of wine.
A few of the vineyards even offer lunch, so you can linger for a while longer and enjoy a leisurely and indulgent afternoon in a beautiful, natural setting – it's definitely one of my favorite things to do near Lecce. Check out this excellent tour, which includes a visit to two local wineries, lunch, and transport to and from Lecce.
7. Step Inside Lecce Cathedral
Located in the Piazza del Duomo, Cattedrale Maria Santissima Assunta e S.Oronzo (Lecce Cathedral for short) is a stunning baroque masterpiece that was first built in 1144, and then substantially rebuilt in 1659.
One of its most distinctive features is the bell tower which was designed by local architect Giuseppe Zimbalo. The tower features 5 separate "levels" which taper as they rise. It also leans slightly due to the subsidence that's occurred over the centuries.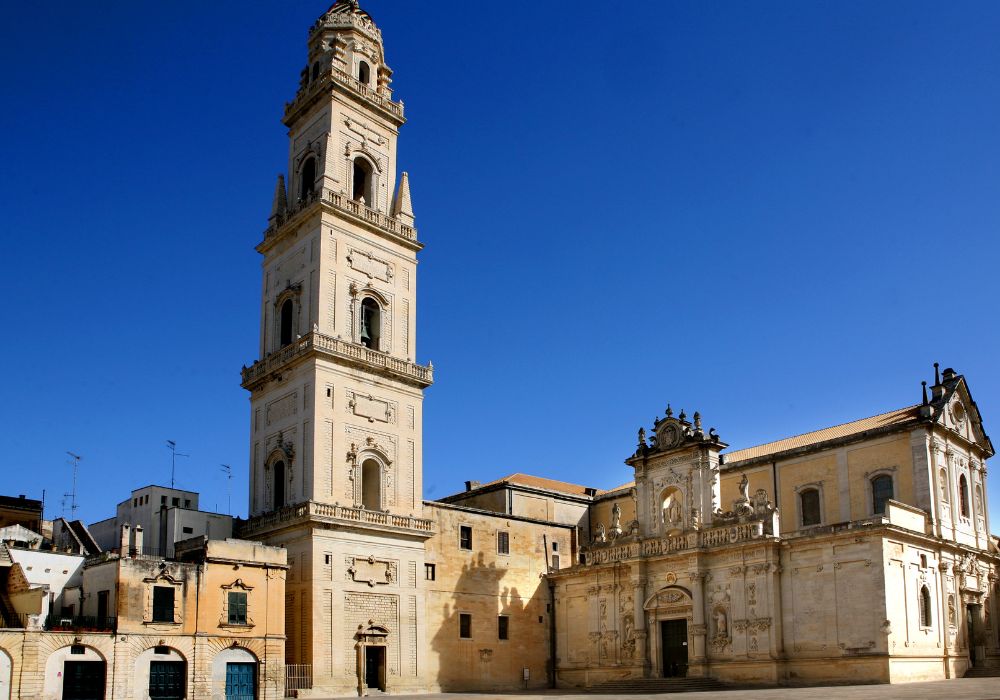 The Cathedral interior features a blend of Roman, Gothic, and Baroque styles and is filled with statues, frescoes, and intricate marble pillars.
8. Discover Lecce's Pre-Roman Secrets
The Faggiano Museum is one of the most unusual tourist attractions in Lecce, Italy, and has a fascinating story. In 2001, a local resident was carrying out some home repairs when he stumbled across a number of ancient artifacts.
After a long period of careful excavation, it was discovered that a huge wealth of important archaeological remains lay buried right underneath his home. These remains date back 2,500 years, to the time before the Roman Empire, and include tombs, cisterns, frescoes, and underground escape tunnels.
Today you can tour this underground network and (literally) discover the many layers of Lecce's history.
9. Enjoy the Salento Peninsula
The Salento peninsula forms the southeastern tip of Puglia (i.e. the "heel" of Italy), with Leece being the largest city within. The rest of the peninsula is home to many picturesque little towns and villages which are full of old-world charm and are perfect for exploring on foot or by bike.
Don't miss the stunning beaches either – they're some of the best in the region and offer plenty of opportunities for swimming, sunbathing, and relaxing. Baia dei Turchi is one of my favorites.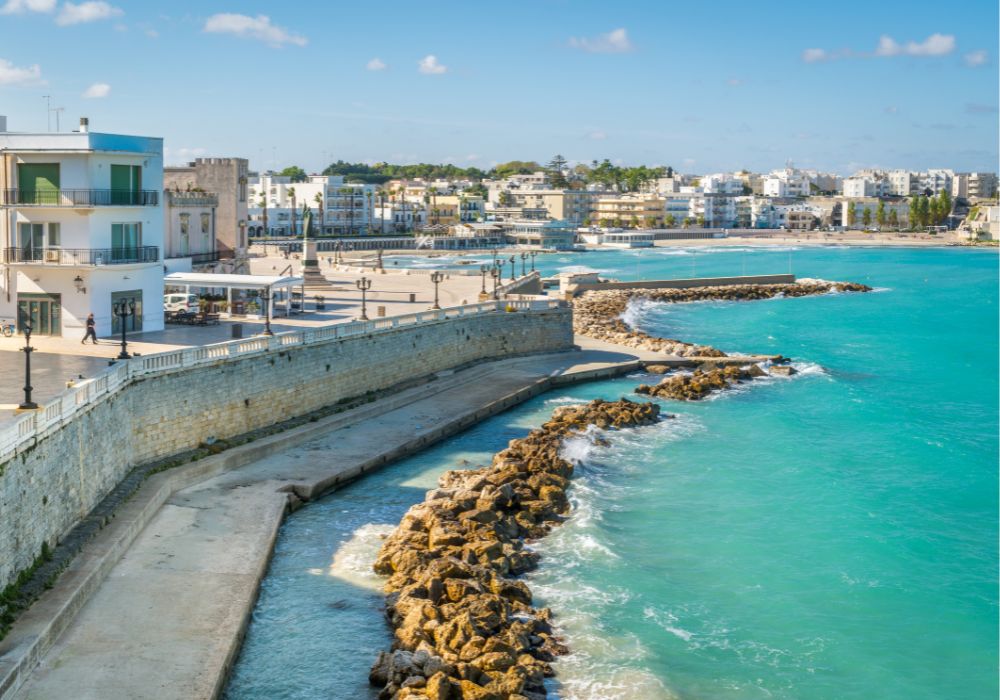 If you're pressed for time, this is an excellent one-day tour of Salento. It departs from Lecce and is a great way to experience some of the other highlights of this beautiful region.
10. Explore Castello Carlo V
The Castle of Charles V was built in the Middle Ages. It's been used for many purposes over the centuries, including as a defensive fortress, a palatial home, and (today), as the headquarters of Lecce's Council of Cultural Affairs.
Exploring the many hidden staircases, gardens, underground chambers, and ornate stately rooms is one of the best things to do in Lecce for families. You can also walk along certain sections of the castle's walls where you can take some fantastic photos of the city and its surroundings from above.
11. Learn How to Make Fresh Pasta (and Tiramisù)
What could be more Italian than learning how to make your own delicious homemade pasta? Whether you're a complete beginner or an experienced pasta-making pro, this small-group masterclass will teach you the art of authentic Italian pasta-making inside a real Puglian home.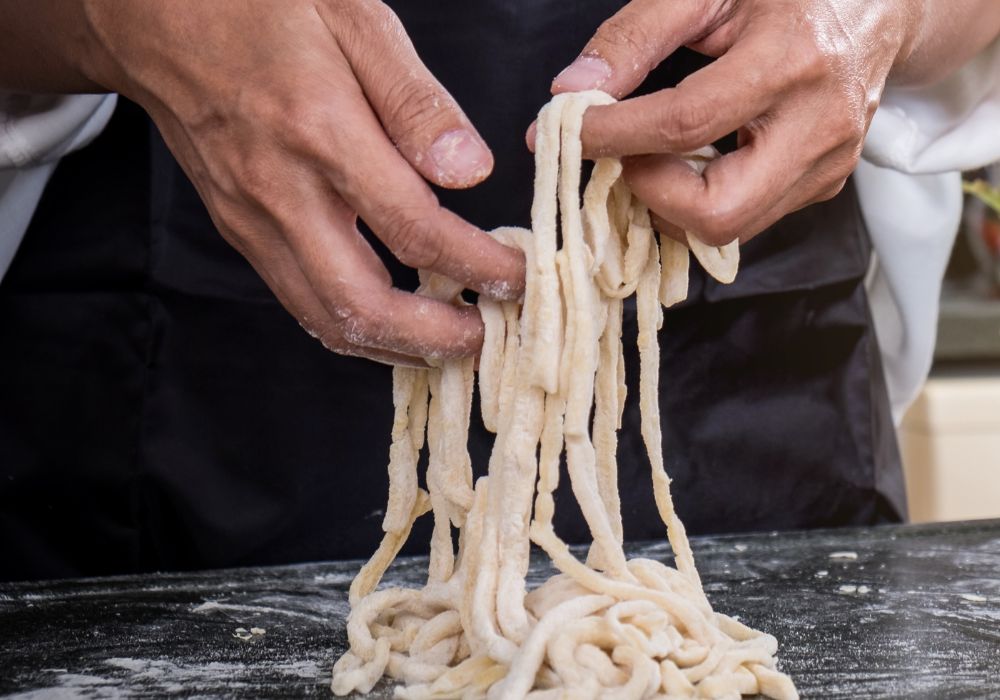 Your hosts will also show you how to make the perfect tiramisù – trust me, it's to die for! Finally, you'll sit down to enjoy the magnificent fruits of your labor. Be sure to arrive hungry!
12. Relax in the Giardini Pubblici Giuseppe Garibaldi
Next to the Castello Carlo V, the Garibaldi Public Gardens are tranquil and full of lush greenery, ornamental trees, sculptures, and fountains. It's an ideal place to spend a peaceful afternoon or take a stroll to escape the hustle and bustle of the city center.
I recommend bringing a picnic and a bottle of wine to enjoy here – (Italy has wonderfully liberal public drinking laws!).
13. See the Basilica di Santa Croce
Another stunning church, the Basilica of the Holy Cross was built in 1695 and is one of the best places to visit in Lecce to see perfectly-preserved Baroque architecture. Its central rosette window in particular is really stunning.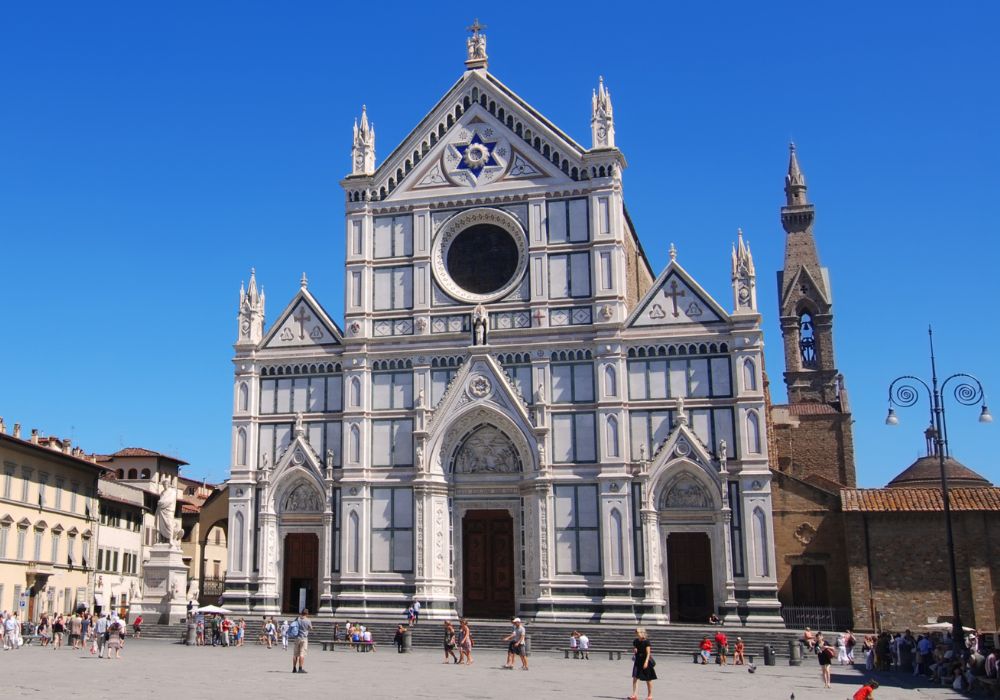 The building's facade is covered with marble and stucco, and the ornate interior is decorated with masterpieces by the artist Antonio Zimbalo and features no fewer than 17 altars.
14. Go Sea Kayaking
Lecce is located close to the sparkling, calm waters of the Adriatic Sea and a rugged coastline that's ideal for exploring by kayak. There are plenty of islands and beautiful coves to discover too, making this a great way to take in some of the stunning coastal scenery.
You can choose to go kayaking by yourself or join a guided tour that will take you to some of the most picturesque spots in the area.
This guided sea kayaking trip departs from the town of Nardò, 25 kilometers southwest of Lecce. If you have your own car, it's an easy 30-minute drive. Alternatively, you can catch the direct regional train which links the two towns.
15. Take a Day Trip to Ostuni, Alberobello, or Polignano a Mare
Ostuni, Alberobello, and Polignano a Mare are all beautiful towns and great places to visit near Lecce. Ostuni is an ancient hilltop town filled with whitewashed houses, cobblestone streets, and plenty of charming little cafes.
Alberobello is famous for its trulli houses – cone-shaped stone dwellings built centuries ago by local farmers. Polignano a Mare is a historic and picturesque fishing village with dramatic cliffs and is home to one of the most photogenic beaches in all of Italy – Lama Monachile.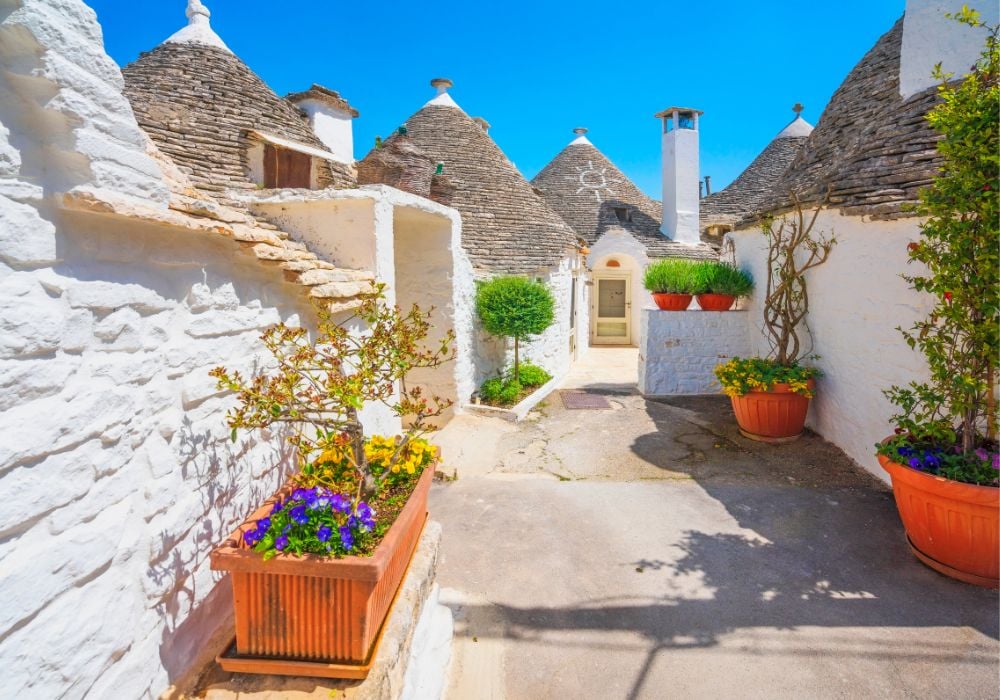 You can easily visit each of these destinations as a day trip from Lecce. If you'd like to see all 3 in one day, check out this tour which departs from Lecce.
Quick Travel Itineraries For Lecce
Whether you have a day or a week to spend, here are a few suggested itineraries to help you get the most out of your time in Lecce.
1 Day in Lecce Itinerary
You can see most of the city's main sights in one day. I recommend starting with a walking tour of the historical center of Lecce. Afterward, head to the Castello Carlo V to explore the fascinating interior and enjoy the amazing views of the city.
Take a relaxing stroll through the Giardini Pubblici Giuseppe Garibaldi in the afternoon, then head to the Piazza Sant'Oronzo for a gelato and a spot of people-watching before finishing your day with dinner in one of the city's excellent restaurants, such as Negroamaro (see below).
2-3 Days in Lecce Itinerary
I recommend spending your first day in the same way as above. For day two, visit the Faggiano Museum and attend a traditional Puglian cooking class or pasta-making workshop after.
On your third day, go sea kayaking in the morning, visit some of the local wineries for wine tasting in the afternoon, and head back into the city to enjoy some tasty street food and watch the sunset.
1 Week in Lecce Itinerary
With a week in Lecce, you can comfortably do all of the activities I've mentioned in this post. Spend days 1-3 roughly as described above, although take your time on each activity – you're in no rush! For example, if you're really into kayaking, you could always spend a whole day doing this.
Then, spend the final days ticking off the rest of the items on this list. Be sure to spend a full day exploring the rest of the Salento peninsula, either by hiring a car or by joining this excellent guided tour.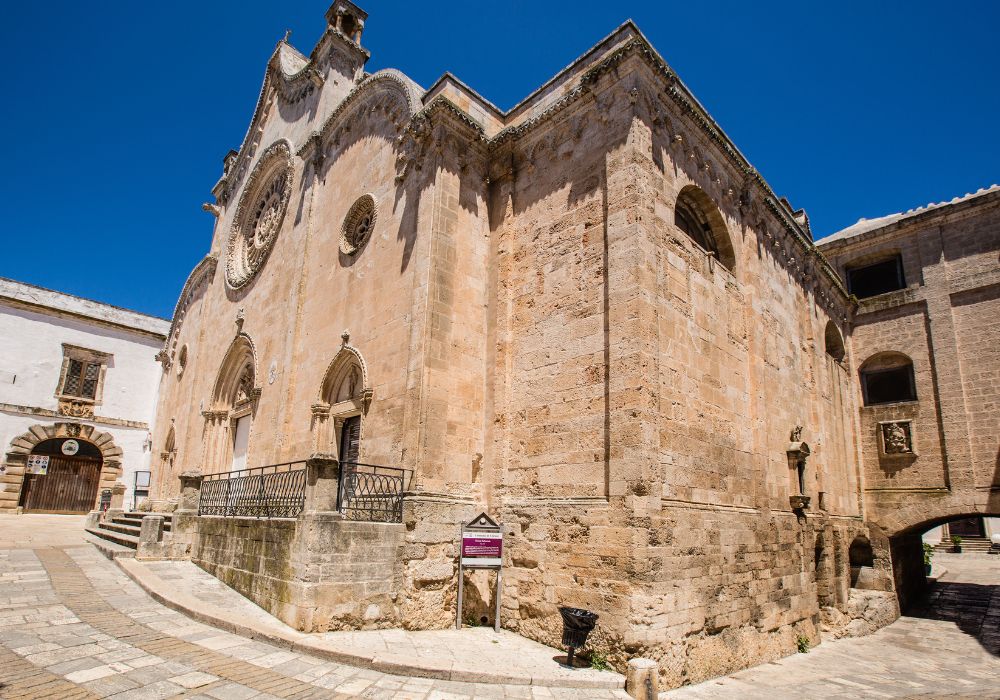 Don't miss the opportunity to visit Ostuni, Alberobello, and Polignano a Mare too. They're all very different and definitely worth seeing.
Where to Stay in Lecce
Lecce isn't a big city, and most places are within easy walking distance of each other, so it doesn't really matter where you choose to stay within the city limits. That said, here are a couple of options for you to consider:
Centro Storico – Best for First-time Visitors
This is Lecce's old town and the best place to stay if you want to be close to all the action. There's a range of different accommodation options here, including hotels, guesthouses, and Airbnbs.
Check out this excellent hotel in Lecce's Centro Storico.
San Cataldo – Best for Beautiful Sea Views
If you want to stay somewhere next to the sea, I recommend taking a look at San Cataldo. It's not technically within the city of Lecce but is only 11 kilometers up the road, and there's a bus that can take you all the way into the historical center.
This is a great little apartment in San Cataldo.
Best Restaurants in Lecce
There are some really great restaurants in Lecce. Here are a few that I'd recommend trying:
Negroamaro Restaurant
Negroamaro specializes in inventive takes on classic regional specialties, using fresh, quality ingredients sourced as locally as possible. The menu is seasonal and changes regularly. It's a little on the pricey side, but I think it's worth the extra expense and would be a great place to come for a special occasion.
Zefiro
Zefiro is one of the best seafood restaurants in the city. Their price-to-quality is very good, (mid-range price, top-quality fresh seafood), and their monkfish pasta and shrimp ravioli are both delicious.
Daiki Japanese Restaurant
Italian food is amazing, but if you're visiting for a longer period, after a while you may start to crave something different. If this happens while you're in Lecce, you should head to Daiki. They serve some of the best sushi I've found in Italy as well as a range of other classic Japanese dishes.
Getting To Lecce
The closest international airport to Lecce is Brindisi. From there, you can easily get a bus or train to Lecce. The train is faster and takes a mere 30 minutes. Alternatively, you can fly to Bari and catch the train to Lecce, which takes about 1 hour and 40 minutes.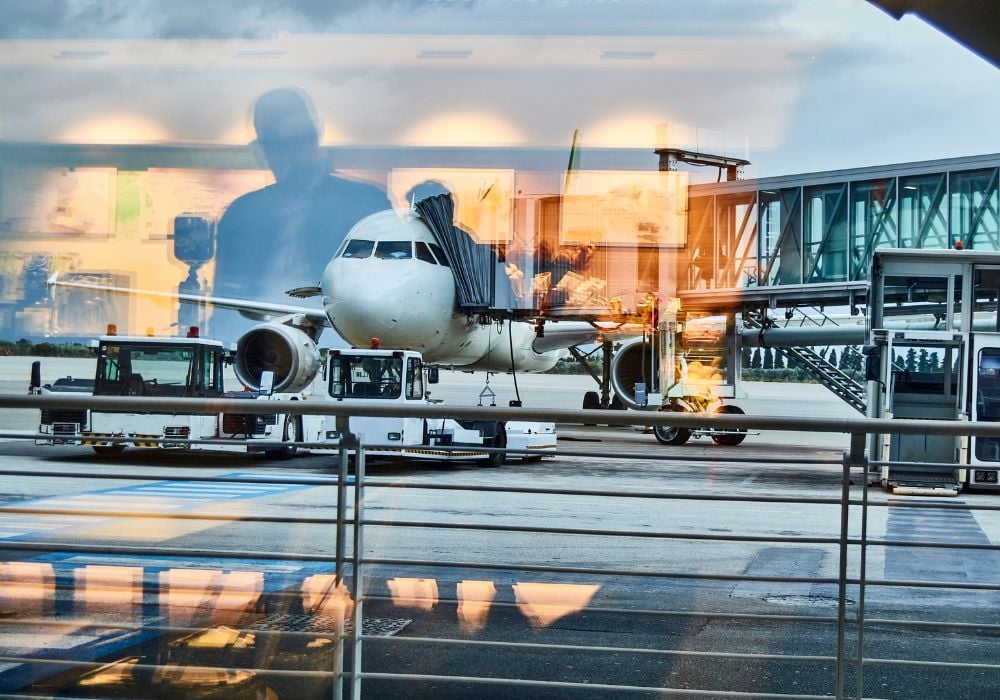 If you're coming from Rome or another major Italian city, you can either take advantage of Italy's excellent high-speed railway network or hire a car and drive yourself (though do beware of Italian drivers – in my experience, their reputation for aggressive driving is understandable).
Once you arrive in Lecce, getting around the city is easy as most of the sights and attractions are located within walking distance of each other. If you want to explore further afield or make day trips out of the city, you can always hire a car, take the bus, a regional train, or join a guided tour that includes transport.
Things To Do in Lecce: FAQs
Here are some answers to commonly asked questions about visiting Lecce:
What is Lecce known for?
Lecce is known for its stunning Baroque architecture and its laid-back, southern Italian charm.
When is the best time to visit Lecce?
The best time to visit Lecce is in the late spring or early autumn (May or September). The weather will be warm and sunny, but not too hot, and you'll avoid the majority of the peak-summer-season tourists.
Is Lecce worth visiting?
Absolutely! There are plenty of things to do in Lecce and it's a really attractive and interesting little city.
How many days should I spend in Lecce?
Although you could visit most of the top places to see in Lecce in one day, I recommend spending at least 2-3 nights here to make your trip more relaxed and enjoyable. More time will also give you the chance to enjoy some of the many things to do around Lecce.
Is Lecce safe?
Yes, Lecce is a safe place to visit. Of course, it's always a good idea to be aware of your surroundings and take the usual precautions such as not leaving valuables unattended, keeping an eye out for pickpockets, and sticking to areas that are lit at night.
What is the most popular thing to do in Lecce?
The most popular thing to do in Lecce is to explore the city's iconic Baroque architecture, including the Cathedral, the Church of Santa Croce, and the Piazza del Duomo.
What is the best beach in Lecce?
The best beach near Lecce is Baia dei Turchi which is a beautiful stretch of golden sand and crystal-clear water, about 40 kilometers southeast of the city. If you're looking for a beach a little closer, Torre dell'Orso is a mere 25km from Lecce and has a good range of facilities including bars and restaurants.
What foods should I try in Lecce?
You should definitely try some of the local specialties when you're in Lecce, such as focaccia, orecchiette pasta, sfogliatelle, and panzerotti.
In Closing
Now you know what to see and do in Lecce, Italy. Despite its relatively small size, there are many great things to discover here. Whether you're interested in historical monuments, architecture, the local food and wine scene, or exploring the tranquil countryside around the city, there's sure to be something here that you'll love.
In fact, I'd go so far as to say that Lecce is one of my favorite cities in all of southern Italy; if you get the chance to visit, I highly recommend it!
Like This Article? Pin it!