Wait, Adele IS married?!
If the reports are true, it sounds like the Someone Like You singer confirmed that she and her beau Rich Paul have officially tied the knot! She'd been calling him her "husband" but lots of women do that after getting engaged. This is REAL!
Over the weekend, the 35-year-old attended her good friend Alan Carr's comedy show at the Dynasty Typewriter theatre in Los Angeles for his debut stand-up performance in the US after years of being known for his late night show in the UK. And it sounds like Adele was a very vocal member of the crowd…
Related: Suki Waterhouse & Robert Pattinson Are Going To Be Parents!!
Celebrity gossip Instagram account DeuxMoi shared two accounts on their Story on Sunday in which witnesses claimed during the comedy show, which took place a day earlier, Adele told the crowd she had "recently" gotten hitched. One person wrote in:
"I was at one of Alan Carr (British comedian) LA shows. It was a super small and intimate venue maybe 75 people. Adele was sitting right behind me with a friend having the best time. Her security only came in to bring her snacks. She didn't care if people knew she was there and she was heckling him they're best friends. When he asked if anyone got married recently she yelled 'I did.' Super cute all around and was super sweet but she dipped right before it ended."
OMG!
Another anonymous tip seemed to corroborate the other:
"I was at Alan Carr's comedy show in LA tonight and Adele was in the audience. Alan asked the crowd if anyone got married recently and Adele shouted 'I did!'"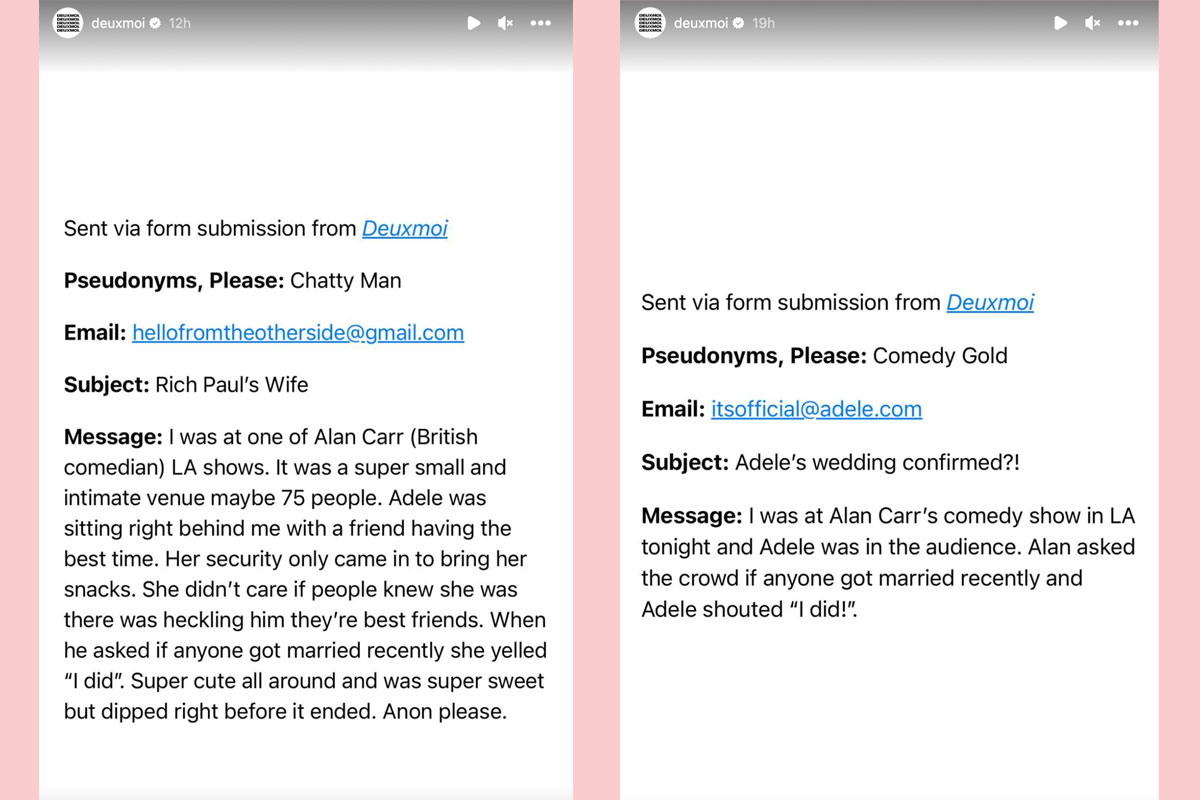 Now these are just anonymous tips and there's been no confirmation from Adele or the sports agent's camps, but damn! Two separate witnesses saying it? If this are true, we're SO happy for them!
As we mentioned, just back in September Adele sparked rumors she and Rich were married after she referred to him as her "husband" during one of her Las Vegas residency performances. But weeks later, an insider told Us Weekly that while they weren't married (at least not at the time), Adele enjoys "the security" of referring to him that way. And right after that while making an appearance on CBS Mornings, the hosts asked Rich if they could refer to Adele as "Mrs. Paul," and he responded:
"You can say whatever you want."
It seems like if they ARE married, they just don't care to make a big deal about it… At least not yet!
Thoughts, Perezcious readers? Do YOU believe the rumors? Let us know in the comments down below!