In this guide to trekking the Inca Trail to Machu Picchu, you'll learn exactly what to expect, what to pack for the Inca Trail, which tour operator to choose and more.
Nick and I hiked the Classic Inca Trail Trek for 5 days and had a very positive experience.
You will too — if you're properly prepared.
The Machu Picchu hike starts at KM 82 in the Sacred Valley near the Urubamba River, and ends at the ruins of Machu Picchu. You'll follow cobbled pathways that the Incans built and used as a transportation system in the 15th century.
During the hike, you'll be blown away by the incredible ingenuity of the Incans. How they were able to build such a solid road system, in the jungle, at a high altitude, is mind-boggling!
While Machu Picchu might be the star of the Inca Trail hike, the stunning nature, towering mountains and numerous ruins along the way are almost as good as the finale itself.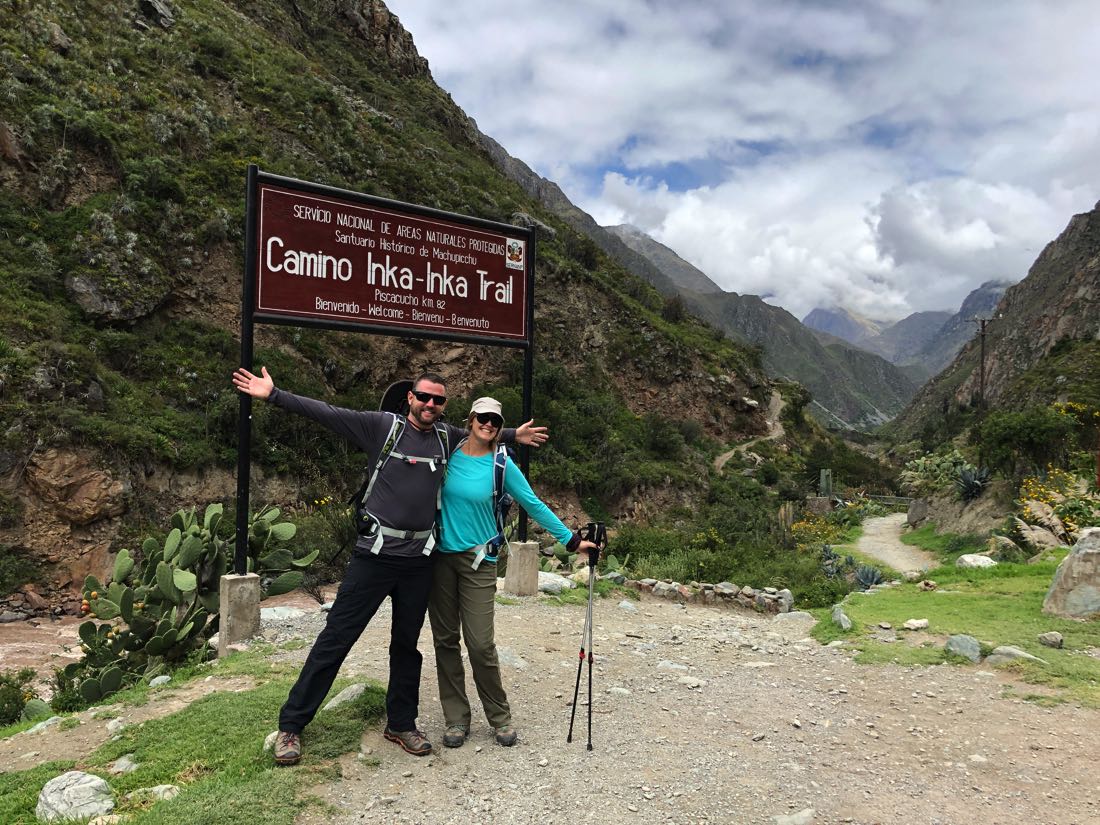 Here's my complete guide to the Inca Trail to Machu Picchu hike to help you plan the perfect trip.
When to Hike The Inca Trail to Machu Picchu
First of all, you cannot trek during the month of February as the trail is closed to all visitors for restoration and maintenance.
There are two main seasons here: dry and cooler, or wet and warmer.
The dry season runs from around the end of April until the beginning of October, while the wet season is from early November to the beginning of April.
With weather being so unpredictable in the Andes, you will probably encounter rain during the dry season, and non-rainy days during the wet season. Evenings are chilly regardless of the time of year you decide to hike.
There's no denying that Machu Picchu is a popular site, so popular in fact that the government had to limit the number of visitors to 500 per day (including guides and porters).
So, if you have the option, the best time to do the Machu Picchu hike in the shoulder season of April – May and later in September, October and early November.
And, make sure you book as far ahead as you can to ensure you get a permit before they sell out.
We hiked the classic Inca Trail route in March and while we had a great experience, because it was the offseason, we did have some rain — but we also had a lot of sunshine.
During our trek in late March, even though it was low season, there were lots of people at Machu Picchu itself, but thankfully not on the trail to get there.
We hiked to Machu Picchu with Explorandes and the way they structure their trips makes it so you're staggered with the other tour groups — meaning you have the trail and 2 campsites all to yourself! More on this company below.
How To Choose the Best Inca Trail Tour Company
You cannot trek the Inca Trail independently. The Machu Picchu hike must be done with a tour operator.
When we were researching Inca Trail tours, the information was overwhelming. We'd find a website that recommended a tour operator, then cross-reference it with TripAdvisor reviews and check to see if it was listed in our Lonely Planet Peru guide.
None of the tour companies had perfect reviews and none of them stood out for us — until I came across Explorandes.
Note: we aren't sponsored by Explorandes and paid full price for our Inca Trail to Machu Picchu trek.
When searching for a tour operator to hike the Inca Trail, there are some main points to keep in mind:
Are the porters, cooks, and guides treated fairly and paid a proper salary?
Does the company give back to the community?
Does the operator follow eco practices?
How long have they been in business?
Exactly what is included in the rate (food, equipment, guide, etc.).
Do you need to carry your own equipment? How much weight will you carry vs. the porters?
Explorandes checked all of those boxes and more.
Here are some of the reasons why we highly recommend Explorandes for the Machu Picchu hike.
✓ Explorandes is the first company to run official tours to Machu Picchu and have been doing so since 1975.
✓ Communication is excellent. When you email them to inquire about rates and bookings, you'll receive a bunch of information upfront (for free) which will help you decide whether or not Explorandes is the company for you.
✓ The Classic Inca Trail tour is completed in 5 days, rather than 4. This extra day on the trip means you don't have to get up at ridiculously early hours, you will be staggered from other groups, and you can enjoy visiting Machu Picchu two times, rather than one. Click here to read more about the advantages of doing the Inca Trail in 5 days rather than 4.
✓ They are an eco-friendly, sustainable company, and they put a focus on hygiene during the trek. This is a good thing as there would be nothing worse than getting sick while on the trail.
✓ Explorandes exercises a 100% carry-in and carry-out policy of solid waste.
✓ A portion of your trip fee is used as a carbon offset, as the company buys carbon credits in the Peruvian Rainforest.
✓ There's an orientation in the town of Cusco two days before you set off on the Inca Trail. This is a great way to get to know your group while getting all of your questions and concerns answered.
✓ Groups are small.
✓ While most companies cross the river at the KM82 marker, Explorandes crosses at KM88, which puts some space between your group and the other trekkers.
We had the trail all to ourselves when hiking with Explorandes. Two out of the three campsites on the trek had just our group staying there. To us, this is a massive bonus!
✓ The way the tour is structured, you arrive at Machu Picchu in the late afternoon to take some photos. You then spend the night in the town of Aguas Calientes (which is around 30 minutes from Machu Picchu), and you return to the site again the following morning for a proper tour of it.
Being able to visit Machu Picchu two times instead of one is a huge perk of this tour — quite often Machu Picchu can be shrouded in fog and clouds.
✓ There are portable toilets that are carried up by the crew. This is great as it means there's a toilet near the camp, and not a far walk away — excellent for nighttime bathroom breaks.
✓ We only had to carry our personal items. The porters carried all food, tents and sleeping gear, bathroom facilities, and kitchen and dining equipment.
✓ Our guide Harry was responsible, professional, safety-conscious, had a good sense of humour and was fun to be around.
✓ The Explorandes guides are knowledgable about the history of Peru, and the Incan times.
✓ The food is actually delicious. Typically, when doing multiday hikes, you'll be forced to eat really basic, easy-to-cook meals. Not with Explorandes.
The cooks make some epic meals! Breakfast, lunch, pre-dinner, and dinner are all tasty (chicken stew with potatoes, guacamole and chips, cheese and crackers, beef stew and rice, soups…).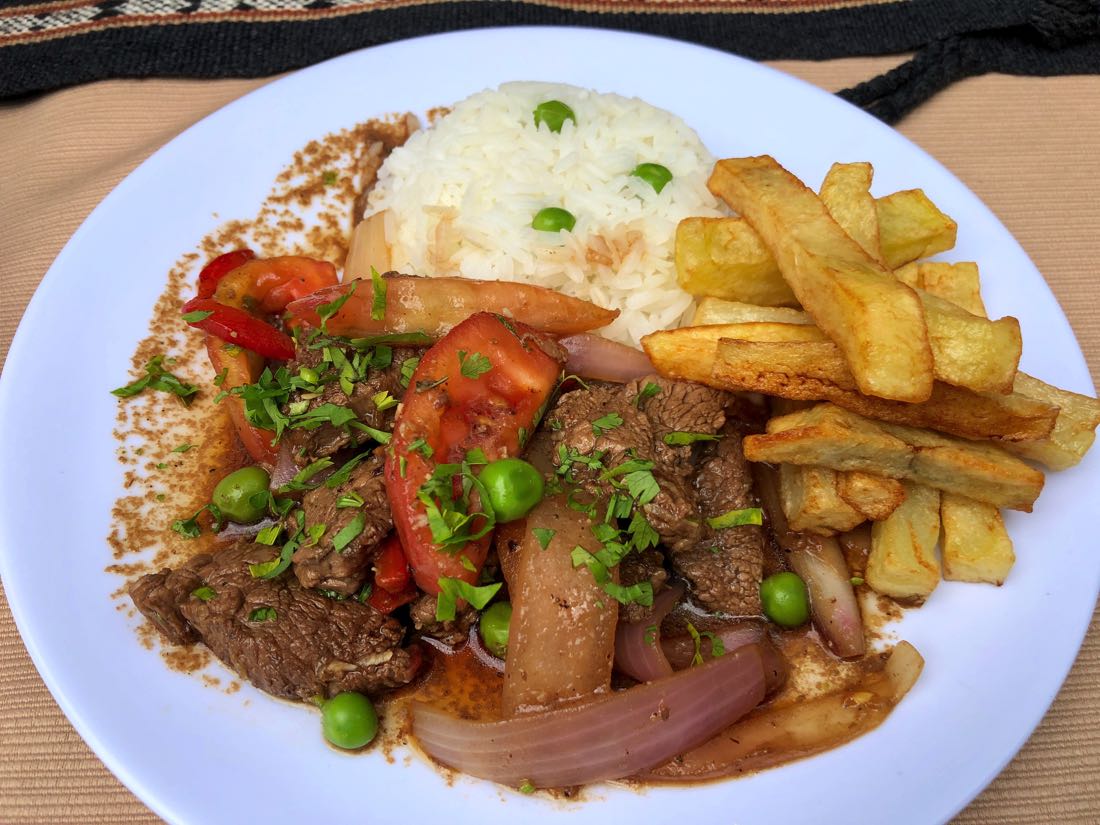 ✓ Each morning, you're woken up early by a friendly porter who will give you a basin of warm water for washing off your face, and bring you a hot drink — coffee, tea or hot chocolate.
✓ Everything runs like clockwork. From the start of the trek to the end when you're dropped off at your accommodation.
Cost of The Inca Trail Hike
The costs vary from around $500 to $1,000 per person. Low costs can equal low quality and poor treatment of porters as well. Do your research and make sure to ask questions before booking.
There are numerous other companies running Inca Trail tours to Machu Picchu. Your tour operator can make or break this once-in-a-lifetime experience, so it's important to ask as many questions as you can and be comfortable with the company you choose.
To learn more about Explorandes and to view the various trekking packages the company offers, click here. To contact the company and speak to a representative, click here. Don't forget to tell them Goats On The Road sent you!
Inca Trail to Machu Picchu 5-Day Itinerary
The typical "Classic Inca Trail Tour" is 4 days, however, some of the companies run 5-day tours, which is what we did with Explorandes.
The 5-day tour allows you to start later in the day on the first day (after the hordes of other trekkers have already started). Plus, you'll be able to acclimatize much better than if you were on the 4-day tour.
With the 5 day trip, day number 3 is the hardest, whereas with the 4-day tour, the hardest day would be day number 2. Finally, you get to see Machu Picchu two times with a 5-day tour, which is great as you never know what the weather will be doing.
Here is the Inca trail itinerary for the 5-day trip that we completed with Explorandes.
Day #1 of the Inca Trail
Cusco (3,350m / 10,990ft) to KM.82 (2,668m) to Chamana Camp (2,668m / 8,753ft)
Distance: 10 kilometers
Time: Approximately 4.5 hours
You're picked up in a van from your hotel or accommodation in Cusco and are transferred to the Sacred Valley. Here you'll have some time to wander around the village of Ollantaytambo, have some food if you want, pick up any last-minute items and of course, admire the amazing Inca ruins here.
From Ollantaytambo, you'll drive to the start of the hike. Here you'll receive a paper bag with some snacks for the day, get your gear set up and take off on one of the most amazing hikes ever.
Admire the Qanabamba ruins, the towering mountains, and the rushing Urubamba River. Make sure to turn around and look behind you during this trek, as the scenery is spectacular.
Today you'll stop for a snack break, before continuing on to enjoy your first hot lunch of the trek. A dining tent is set up with stools for you to sit on.
Carry on and cross the river at Q'ente before arriving at the campsite of Chamana. This is a private campsite so only Explorandes guests are able to camp here — there are hot water showers here as well! When you arrive, your tent will already be set up, with your sleeping mat and sleeping bag inside.
Get freshened up before enjoying a snack, followed by a tasty dinner, and then sleep.
This day of the Inca Trail is very easy, and as our guide said during the orientation: "If you struggle on day 1 of this hike, then you should rethink trekking to Machu Picchu".
If you find yourself having issues this day, you may need to turn around and choose another way to see Machu Picchu.
Day #2 of the Inca Trail
Chamana Camp (2,668m / 8,753ft) to Llulluchapampa Camp (3,840m / 12,598ft)
Distance: 11.7 kilometers (7.3 miles)
Time: Approximately 7-8 hours
Wake up around 6:30 am, pack up your bag of personal items, have breakfast and set off. The porters and crew will take down your tent and tarp and carry it for you.
You camped across from the stunning Llaqtapata ruins, and today you'll get to explore them and learn about the history here. You'll be given the option to climb up a small'ish mountain — do it! The view up the valley and across the ruins is spectacular. We sat there for a while just gazing in awe and the nature around us.
During today's hike, you'll pass by small creeks, waterfalls and lots of towering trees. This part of the Inca Trail is lush and the air is moist and humid. Make sure to keep your eyes peeled for unique flowers and insects along the way.
Enjoy a hot lunch before continuing uphill — there are some stairs this day.
The second campsite on the trail was my personal favourite. This is the Llulluchapampa Camp and when the clouds clear, Mt. Huayanay is exposed — it's an incredible sight. Again, we were the only people camping at this site, well, us and lots of llamas!
Not only were the llamas nearby, but while we were sitting in our tent, a llama walked right up to it! Pretty amazing.
After relaxing for a bit, enjoy a tasty hot meal before going to bed.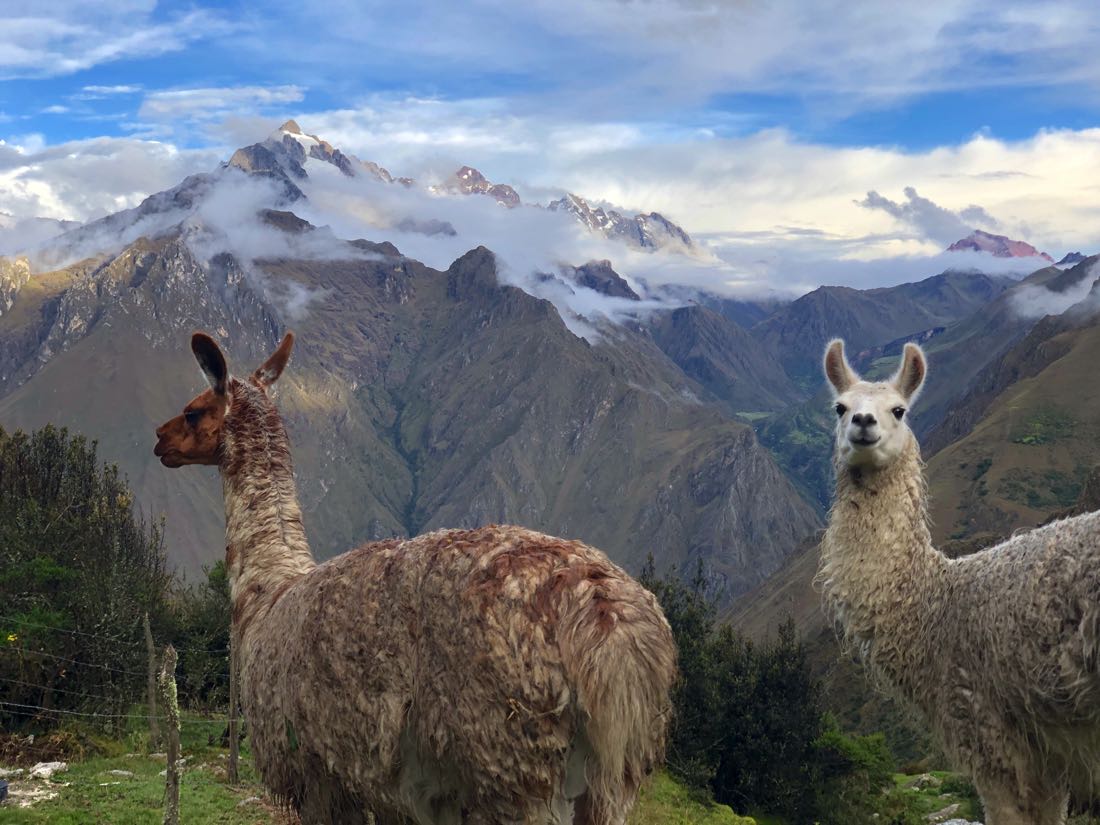 Day #3 of The Inca Trail
Llulluchapampa Camp (3,840m / 12,598ft) to Phuyupatamarca Camp (3,650m / 11,975 ft)
Distance: 12 kilometers / 7.5 miles
Time: Approximately 8 hours
Today is the tough day, with two passes to conquer.
Wake up early around 6:00 am. Have breakfast, pack up and hit the trail by 7:00 am.
You'll immediately start ascending to the Warmiwanuska Pass (Dead Woman's Pass) at 4,200m (an elevation gain of 360m). The pass is given this name due to how the mountain range looks — like a woman laying down.
This is the highest point of the entire Machu Picchu hike — in fact, the ruins of Machu Picchu are actually 1,800m lower than this pass.
At the top, enjoy the fabulous view behind you (sadly, our view was just fog!).
After the pass, you'll descend for 850m down rocky steps. At the bottom, you'll be greeted by the crew who will have set up the dining table with stools and have snacks waiting for you.
Rest up, as you'll be climbing back up again over your second and final pass of the day, at 3,850m.
After you ascend and descend from that pass, you'll be greeted by your porters again who will have hot drinks and a meal ready for you. This isn't your campsite, however, and you'll need to hike just a little bit farther before reaching the amazing campsite that you'll be sleeping at.
For the last portion of this day, you'll see lots of caves, moss-covered rocks, and unique flowers.
Arrive at the third and final campsite of the trek, Phuyupatamarca, at 3,650m. The ruins here and the view of the mountain ranges are spectacular. Our guide, Harry, told us to follow him up a hill…and even though our feet were yelling "No!", we went with him and the view was incredible.
At this campsite, there are a couple of other groups staying here. But, unlike Explorandes who bring their own toilets, the other campers will have to walk down to the public toilets! Lucky for you, your bathroom is just steps away.
Enjoy a pre-dinner snack, hiking up to see the mountain range, and a tasty dinner to round off the day.
Day #4 of the Inca Trail
Phuyupatamarca Camp (3,650m / 11,975ft) to Machu Picchu (2,430m/7,970ft) to Aquas Calientes Town
Distance: 10.9 km (6.8 m)
Time: 7.5 hours
With the itinerary planned by Explorandes, you won't be waking up at 3:30 am like your fellow hikers. Instead, you'll be up at 7:00 am.
The reason for this is that you won't have to do the tour of Machu Picchu today. You will arrive at the Sun Gate, see the site in all its glory, and take some photos. Then you'll continue to the town of Aguas Calientes. The following day, you will do a proper tour of the ancient site.
Today is epic and is filled with ruins! Go slow, and soak it all in.
The ancient site of Phuyupatamarca that you camped next to will be your first stop today. Get an up-close view of the ruins and learn about them from your guide (and take photos!) before continuing on.
Since you're descending from a higher (drier) altitude, you'll notice the foliage change yet again today. Enjoy the bamboo forest, unique flowers, moss-covered trees, and butterflies.
Since it was our last day of the Inca Trail hike, we took today very slowly. We wanted to enjoy every moment of it and are glad that Harry was an advocate for trekking at a slow pace and fully enjoying the surroundings.
The second set of ruins along the way is Intipata — which is where you'll take a break from hiking.
Following that, you'll enjoy your last meal of the trek (saving the best for last!), before continuing on to the Winaywayna ruins at 2,666m. This incredible site is in immaculate condition and was our second favourite of the Inca Trail trek to Machu Picchu. Even though there are a lot of steps, it's worth going into the ruins and checking them out.
Finally, hike up some stone steps before arriving at the Sun Gate (Intipunku). This was once the principal entrance to Machu Picchu and was heavily guarded — only letting select people and the elite to enter.
Congratulate yourself, you've made it!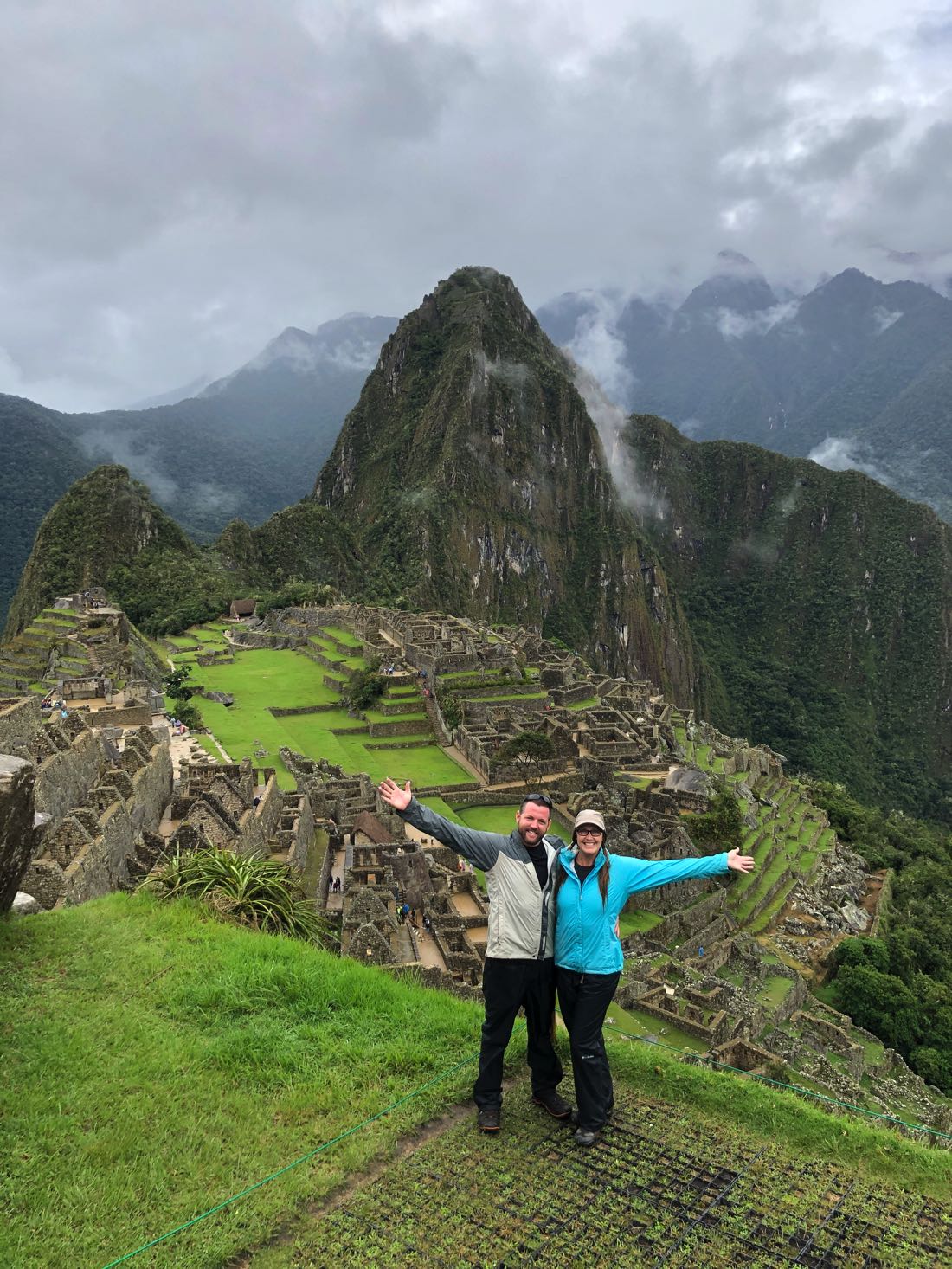 From here, it's about an hour descent down to Machu Picchu where you can walk around in certain portions of the site and take some photos.
At around 4:30 pm, you'll hop on a bus and make your way to the town of Aguas Calientes. Check into the pre-booked hotel and enjoy free time this evening to eat and drink where you want. Our group got along well and we all decided to hangout together and have a celebratory beer. I recommend Mapacho for pub food and craft beer!
Don't stay out too late though as you'll be up early to check-out and hop on the bus back up to Machu Picchu.
Day #5 of The Inca Trail
Aguas Calientes to Machu Picchu to Aguas Calientes.
Aguas Calientes to Cusco by Train and Bus
Time: 8 hours (longer including lunch, waiting for transport, etc.)
Today, you'll wake up, pack your bag and store it in a locker at the hotel. From there, you'll meet at the bus station with your hiking group and take the 30-minute bus ride back up to Machu Picchu.
Today is when you'll receive a tour of the entire site from your guide. Harry (our guide), even took us offtrack to check out the ancient Inca Bridge. The route is quick narrow, with sheer dropoffs (and no railings), so it's not for the faint of heart. I was well behind everyone and walking so slowly…
If you do decide to visit the Inca Bridge, do not run, do not pass other travellers, and do not take any selfies close to the edge. You wouldn't believe what we saw some travellers doing.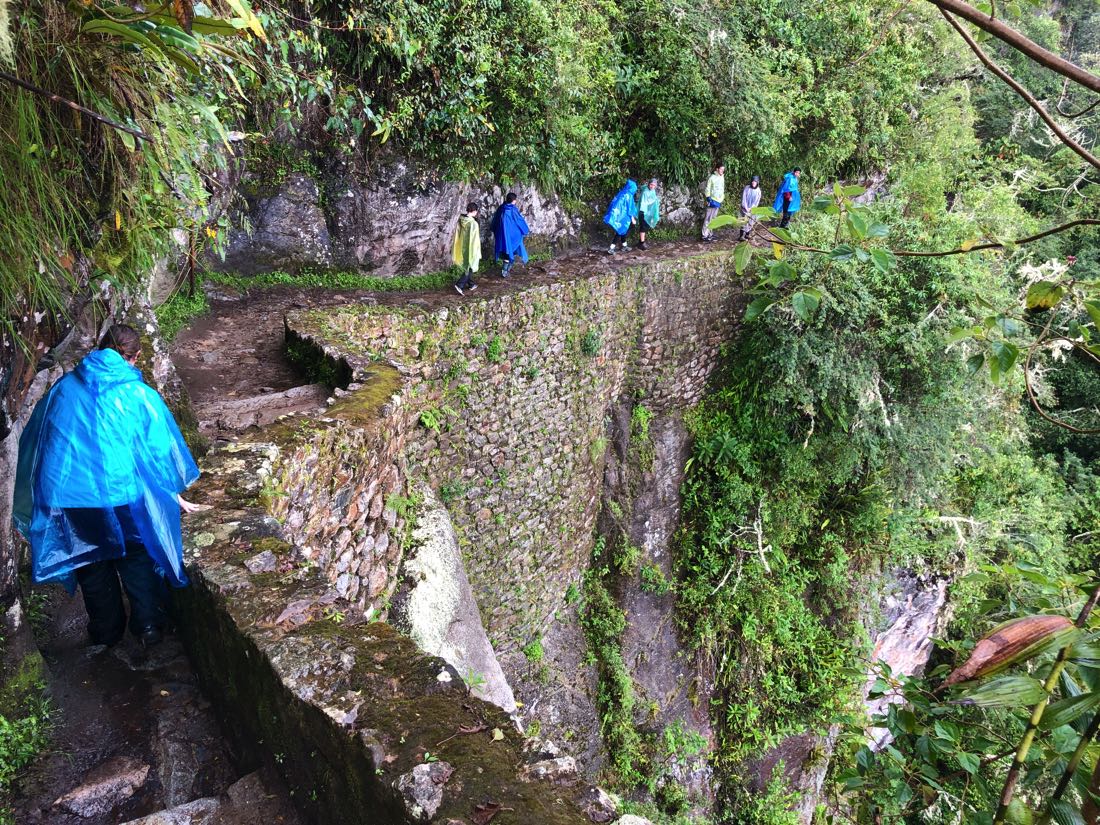 Machu Pichu is outstanding and after getting a brief history lesson and learning about some important areas of the site, you'll be able to wander around on your own — meeting back with your group at a set time.
You'll enjoy lunch together in Aguas Calientes before heading back to the hotel to grab your backpacks and change your clothes. From there, you'll hop on a train to Ollantaytambo, and switch to a bus to Cusco.
That's it. Your Inca Trail trek to Machu Pichu is complete!
(Note: when we hiked, a portion of the train was closed which is why we had to take a bus from Ollantaytambo to Cusco. Normally, it's a train ride from Aguas Calientes to Cusco.)
What to Pack for the Machu Picchu Hike
To fully enjoy the experience, you'll want to be a smart packer. You'll be sweaty. You'll get rained on. You'll be hot. You'll be cold. It's important to pack for the elements while keeping your pack as light as possible.
If you don't have the proper gear, or if you're on a longer trip and can't carry warm clothing with you, there are some shops in Cusco where you can stock up. Check out Tattoo which has quality clothing and gear (backpacks as well), the North Face shop or any of the random small shops selling gear around the main plaza.
Here's what to pack for the Inca Trail:
You'll want some equipment, proper clothing, and some random things. Here's what to bring when trekking to Machu Picchu.
Clothing
When hiking, the best idea is to have two sets of clothing — one for hiking during the day, and one that you keep clean and dry for the evenings. That's it. You don't need 5 shirts and multiple pairs of pants. Just two sets of clothes.
Keep in mind that the porters will be taking the majority of your items, so make sure that you have all the clothes you might want during the day in your personal backpack. You won't have access to your items that the porters are carrying until you reach the campsite.
Hiking Pants: No matter what season you're trekking the Inca Trail, you'll want pants. Ideally, hiking pants that can zip off when (if) you get hot, or ones that can roll up from the ankle. I always trek in Halle Pants by Prana — they're stretchy, comfortable, water repellent, SPF 50 and they roll up from the ankle and attach with a button around knee level. Nick wears hiking pants by Columbia.
2 x Long-Sleeved Shirt / T-Shirt: Look for a shirt that is lightweight and quick-dry if you're hiking in the hot months, and a long-sleeve shirt that is warmer for hiking in the cool season. I had two long-sleeved, cotton shirts by Reebok and Nick wore a long-sleeve quick-dry shirt that he bought at Tattoo in Cusco. Nick also had a quick dry t-shirt with him.
Thermal Top: Even if the daytime temps aren't cold, the evening will be. Have a thermal baselayer top to keep you warm — we slept in ours. We have thermal baselayer tops by Underarmour.
Thermal Pants: You'll want thermal pants to wear at night. Basically, they are long underwear and we wore ours to sleep each night. We both have Underarmour thermal pants.
Rain Jacket: When it's cloudy, cold and spitting rain (sprinkling) on the Inca Trail trek, you'll want a windproof, waterproof jacket. When it's torrential raining, you might want a poncho. However, Nick and I always get hot when hiking and find that ponchos make us too warm (although they keep you drier). We recommend Helly Hansen windproof, waterproof rain jackets.
Down Jacket: Having a down jacket is a must. During the day you most likely won't need it, but after you stop hiking and take a break for lunch, you might cool down and want it. In the evenings, you'll want to wear your down jacket. Get one that is thin, but provides warmth.
Fleece: Having a thermal base layer, a down jacket and a rain jacket is great, but you need another layer of warmth in there for those chilly nights. I suggest packing a lightweight fleece. We have Columbia fleece tops, but have worn North Face in the past as well. Just make sure it's lightweight but warm.
Waterproof / Windproof Pants: You can choose to wear these when hiking (if it's a torrential downpour, or if you're cold), or keep them dry and wear them around camp in the evening. We wore our thermal pants underneath these at night when we'd change out of our trekking clothes.
Socks: Bring enough socks for every trekking day, and keep a thicker, warmer pair dry for evenings. Bring a bonus pair or two.
Underwear: For men, bring quick-dry, lightweight underwear. Ladies, pack comfortable, breathable cotton ones.
Bras: Ladies, you'll want to wear a sports bra on the Inca Trail trek to Machu Picchu.
Hiking Shoes: The terrain on the trail is uneven and full of stones and stairs. You'll definitely want a sturdy pair of hiking boots for this trek. But, you'll want to make sure you have a pair of hiking shoes that are properly broken in, and are waterproof/water-resistant. There's nothing worse than blisters when hiking or having wet feet. I wear Merrell and Nick wears Keen.
Second Pair of Shoes: After a long day of hiking, the last thing you'll want to do is put your soggy hiking boots back on after cleaning and changing your clothes! Have a second pair of shoes to put on for the late afternoons and evenings around camp. Slip-on Crocs are a good idea or a lightweight basic sneaker.
Toque/Beanie: You might want a warm hat for those chilly nights. We did.
Hat: The sun at elevation is intense. Make sure you have a hat with a brim and if you're prone to getting a burnt neck, wear the kind that covers the back of your neck as well.
Gear
Having equipment that suits your needs is key when hiking the Inca Trail. If you don't have your own sleeping bag, you can rent it from Explorandes for $25 per person. Here are some of the items we recommend packing.
Backpack: The porters will carry 7 kgs of your kit, including your tent, sleeping bag, clothing, sleeping mat, etc. You will need to carry your other personal items. Choose a backpack that has a waistbelt, thick shoulder straps, and proper airflow off your back. We did the Machu Picchu hike with our Osprey Stratos 34 backpacks, and they were perfect. They have space for a hydration pack, which is key. (see more below).
Rainproof Cover: You'll encounter rain on the hike and when you do, you'll want to make sure you have a rainproof cover for your backpack.
Trekking Poles: Some people love them, others hate them. I like to trek with poles with the terrain is uneven, and there are lots of downhill parts — which is exactly what you can expect from the trek to Machu Picchu. Poles are given to you by Explorandes if you want them, or you can bring your own. Just make sure to tell them ahead of time.
Sleeping Bag: As I said above, you can rent a -17° Celcius bag from Explorandes, or bring your own. You'll want a lightweight bag that's around -10 ° Celcius to – 20 ° Celcius.
Headlamp: While there are solar lights used at camp, for those late-night bathroom breaks, or for seeing what you're doing in your tent at night, you'll want to have a headlamp.
Toiletries/First Aid
You'll need some basic toiletries for this hike to Machu Picchu. Here are some items we're glad we brought with us.
Deodorant: If you're a couple, consider sharing the same one for 5 days as it's one less thing to carry, which means less weight.
Toothbrush and Toothpaste: If you typically have an electric toothbrush, swap this out for a basic one and a small tube of paste.
Sunscreen: The sun at this elevation is intense. Make sure to apply throughout the day.
Soap: At the first campsite, there is actually a hot water shower! Make use of it. Bring one small soap (like the ones you get in hotels) and enjoy a clean and fresh night.
Wet Wipes: These are packing essentials when you're hiking without showers. At the end of each day, change out of your sweaty, smelly trekking clothes and clean yourself off with wet wipes. It's the closest thing you'll get to a shower for a few days and I highly recommend bringing a small pack of them.
First Aid: The team has basic first aid items, but we always travel with pills and supplies that we know work for us. Consider some ibuprofen (Advil), something for upset stomachs (Pepto Bismol), and something for colds. We also pack some Band-Aids, tweezers and nail clippers.
Other
Apart from clothes and gear, there are a few other things you may want to consider packing.
Camelbak / Hydration Pack / Bladder: When you're hiking, rather than having to stop, swing your backpack around to the front and pull your water bottle out of your bag – or having to ask a fellow trekker to grab it for you – get yourself a hydration pack (bladder). These packs that you fill up with water slip into the inside part of your backpack and have a long tube attached to them. The tube comes out the top of your pack, over your shoulder and clips onto your shoulder strap. You simply sip the water from the tube with ease. Learn more here.
Waist Pouch / Fanny Pack / Hip Pack: Whatever you call it, you may want to have one for the trek. This ensures easy access to your phone (for photos), lip balm, sunglasses, etc.
Plastic Bags: We're not advocates for plastic and try to be responsible when we travel, but when it comes to trekking and rain, you'll want to make sure your clothing and important gear stays dry. Ziploc bags are great for cameras and phones. We bring larger garbage bags and put our clothing inside one, and sleeping bag inside the other. There's nothing worse than being cold and only having wet clothes to put on.
Packing Cubes: These cubes ensure that your items are organized, compact, and easily accessible. Put all of your clothing in one and your toiletries in another, then when you're looking for something, you can easily find it. We use these ones.
Aluminum Water Bottle (with cover): Even though I recommend having a hydration pack, I also recommend carrying an empty aluminum water bottle with a soft, thick, zip-on cover. Why? Before bed, ask the cook to fill it up with hot water, zip on the cover, and put it into your sleeping bag. It's an instant heater. (Note: we always do this when hiking, but recently heard a story of someone's bottle leaking into their bag. Use with caution).
Small Lock: We felt safe with our trekking team and staff the entire time, but when you meet up with other companies at the campsites, you never know who is lingering around. I recommend bringing a small combination lock and locking your backpack (which will have your passport, camera, money, and phone inside).
Top Tips For The Machu Picchu Hike
You know the itinerary, you know what to pack for the hike to Machu Picchu, you know which tour operator to choose, but I still have some tips for you! Here are some things to know before embarking on the Inca Trail to Machu Picchu in Peru.
1. You'll Need to Acclimate
At an altitude of 3,400 meters (11,200 feet), altitude sickness is common. However, it can be prevented (or helped), by properly acclimatizing yourself. Not everyone feels the effects of altitude sickness, and it doesn't matter how fit you are, or your age. It can affect anyone at any time.
Many people arrive in Cusco from sea level, or close to sea level (we flew in from Quito, Ecuador). If this is you, before you take off on the Inca Trail, make sure you spend at least 2 days in Cusco at this altitude (3-4 days if you have the time).
If you don't give yourself time in Cusco, your body might not be ready for trekking the Inca Trail. You could feel nauseous (and may even vomit), you might not have energy, have a pounding headache, and overall, you'll most likely feel miserable.
Ways to help and avoid feeling the effects of altitude are as follows:
Don't strain yourself (go easy the first couple of days).
Eat lighter meals.
Eat some sugar (Snickers bars are good) or drink herbal tea with sugar.
Keep hydrated, which means avoiding coffee and alcohol, and drink lots of water.
Eat coca candies or coca leaves.
If you're still feeling the effects after 3 days, you may need to go down to a lower altitude or see a doctor to get some oxygen.
2. Go Slow on The Trail
Hiking the trail to Machu Picchu is a once-in-a-lifetime experience. The history, ancient ruins, and scenery are absolutely incredible. Rather than rush through the hike, go slowly and enjoy every moment of it.
Our guide was excellent as he suggested we all trek at a slower, more enjoyable pace. Our group were all fairly young and active and we were hiking quite fast the first day.
At lunch, he reminded us to maybe slow down and "smell the roses" from time to time. After that little speech, we did and were able to notice so many small things along the way.
3. Book in Advance to Ensure You Get a Permit
Machu Picchu is one of the Seven Wonders Of The World. It's become more and more popular over the years and therefore, it's imperative that you get your permit ahead of time.
500 permits are sold each day, with around 200 allocated for tourists, and 300 for staff (cooks, porters and guides).
Book your trip to Machu Picchu as soon as you can to avoid disappointment!
FAQ's
We did a lot of research and read a lot of blogs and review sites when planning our hike to Machu Picchu, but we still had questions! Here are some of the things you're probably wondering about (feel free to ask any questions in the comments below, or send us an email).
Do I Need to Bring My Passport on the Inca Trail Trek?
Yes. I repeat, yes!
Do not leave your passport in your luggage stowed away at your hotel. Firstly, you need to show it during the 5-day trip (when entering Machu Picchu, for the hotel check-in and for the train), and secondly, never leave your passport behind. It's the most important item when travelling.
I recommend putting it in a Ziploc bag to keep it protected and keeping it safe in your pack (on your person), not with the sleeping bag and other items that the porters carry.
Do I Need to Bring Money for The Inca Trail?
Yes.
You won't need to spend any money while hiking, but when you reach Aguas Calientes, you'll need to pay for your own dinner and drinks that night. Plus, you might want to purchase some souvenirs and snacks.
Also, you will need to tip the porters, cooks, and guides with cash.
How Much Do I Tip The Guide, Cooks, and Porters?
You aren't forced to tip, but of course, tips are much appreciated. The entire team at Explorandes were incredible and we wanted to tip much more than was suggested.
These people carry all of your heavy gear, prepare all of your tasty meals, set up your tent and sleeping gear, and give you information and tell stories about the Inca Trail and Peru. All while smiling and helping you when needed
If you're happy with the service, definitely tip. Likewise, if you are unhappy, you do not need to leave any gratuities.
It's suggested that the trekkers put money into a pot that is then distributed between the cooks and porters. For the guide and assistant guide, they will receive a larger tip.
Recommended tips for Porters should be around 60-80 soles

per

porter ($18 – $25). Not per day, but in total.
Recommended tips for Chefs should be around 150-180 soles

per

chef ($45 – $55). Not per day, but in total.
How Do I Get Drinking Water on the Machu Picchu Hike?
Drinking water is supplied by Explorandes throughout the day. Water is boiled, treated and ­filtered by cook staff and guides. Bring a reusable water bottle, or a hydration pack (as I recommend above), and fill it up in the morning. You'll be able to refill your bottle at the lunch break, and again when you reach the campsite.
There are a couple of places where you could buy water, but I do not recommend purchasing plastic water bottles along the way.
Do I Need to Bring Toilet Paper?
No. Toilet paper is provided in the portable toilets.
Is There Somewhere to Charge My Phone?
No. But you can bring a power bank with you. Make sure to keep your phone on "Airplane Mode" to help with the battery life.
What Do I Do With the Rest of My Luggage?
For the Machu Picchu trek, you'll only be bringing what you absolutely need. But, you're most likely on a trip to see other parts of Peru, or more South American countries such as Ecuador, Colombia, Argentina or Chile! This means you'll have a lot of items to leave behind while you're trekking.
All of the hotels and Airbnbs in Cusco are used to this and they have holding rooms where you can leave your luggage.
However, since we were staying at one Airbnb before our Inca Trail hike, and then switching to another when we returned to Cusco, we opted to leave our backpacks at the Explorandes office. Speak to the company and they can arrange it for you if you need.
How Hard is The Inca Trail to Machu Picchu?
It's a multi-day trek, at a fairly high altitude, so it's not "easy", but if you're a hiker and are in moderately good physical shape, you'll have no issue completing the trek.
There are a lot of steps and uneven surfaces, so if you have bad knees, you might want to take that into consideration.
We've trekked the O Trail in Torres del Paine, Chile, the Ciudad Perdida in Colombia, the Quilotoa Loop in Ecuador, numerous multi-day hikes in Kyrgyzstan, the Annapurna Circuit in Nepal and a week-long hike in Mongolia.
We found the Inca Trail to be pretty straightforward, and we're not in great shape! This was mainly because there were porters carrying our gear, and our tent and food were all set up and prepared for us.
Plus, we're used to carrying all of our own trekking and camping gear on our backs. The Inca Trail was luxurious!
Is The Inca Trail Safe?
The Inca Trail is one of the most popular hikes, and if you choose a responsible, knowledgable and properly trained team to hike with, it's also a safe trek.
Be aware of how you're feeling and don't be afraid to express any concerns to your guides. The guides are trained in wilderness first response and first aid, and there are satellite phones in case of any emergencies. Make sure you have proper travel insurance that covers trekking at high altitudes.
Enjoy The Inca Trail
Walking on the same roadway that was built by the Incan Empire in the 15th century is an unforgettable experience, and while the ruins of Machu Picchu are spectacular, we also appreciated all of the smaller ancient sites along the way.
The hike isn't a race and is meant to be enjoyed, so take your time and soak it all in. If the Inca Trail hike sounds like something you would be interested in, click here to learn more about Explorandes and reserve your permit!
The lead image in this article is courtesy of Shutterstock.com. All other photos are by Goats On The Road.
Like This Article? Pin it!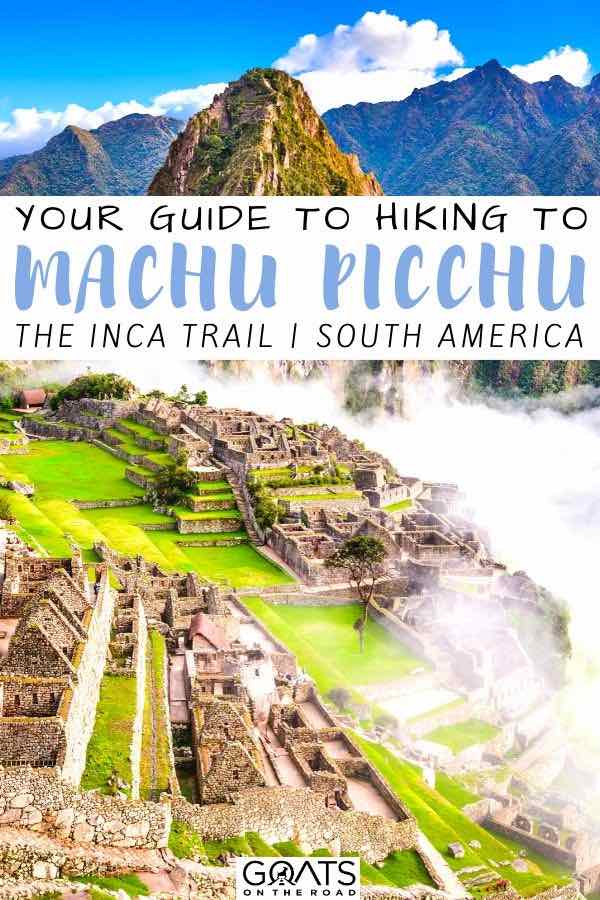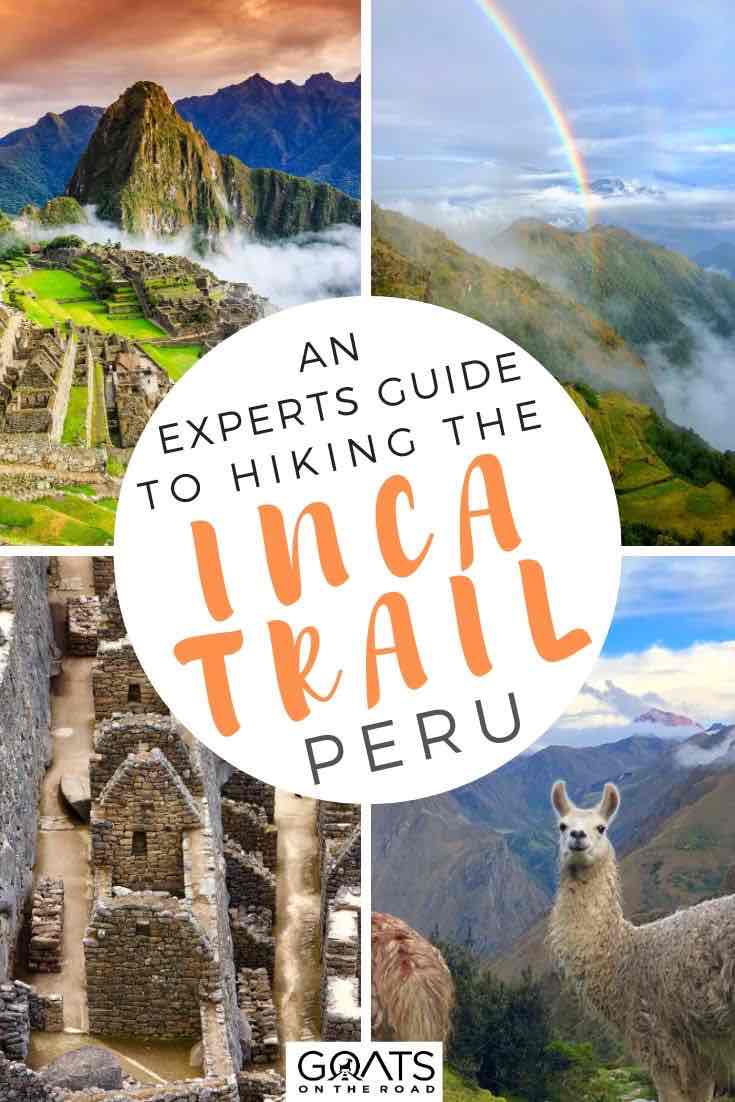 The post How To Hike The Inca Trail to Machu Picchu appeared first on Goats On The Road.