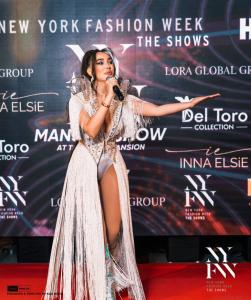 Ninelle (Nina Senko) Perform "Closer" at NYFW
Ninelle (Nina Senko) Perform "With You" at NYFW
Singer Ninelle releases "With You" and "Closer" for Valentine's Day at New York Fashion Week
NEW YORK, NEW YORK, USA, February 21, 2023 /EINPresswire.com/ — American-based singer and songwriter Ninelle released two new songs titled "With You" and "Closer" which are currently available on all music streaming platforms. The Ukrainian-born music star Ninelle (Nina Senko) is all about love and views Valentine's as a time to reflect on the universal force of love which keeps the world unified amid trying times.
Ninelle performed the brand new songs "With You" and "Closer" for the first time at the 2023 New York Fashion Week at the NYFWmansionshow event which took place with the support of HBO. Known to be an inspirational singer Ninelle's songs "With You" and "Closer" aim at inspiring people to choose love in this day and age where many tend to question love.
Valentine's day is that time of the year when people renew their love and commitment to each other. Like love, Music is a universal force known to bring people together and is sure to encourage the spirit of love.
"With You" makes you crave the feeling of being in love again as people explore the adventures of discovering each other. As Ninelle sings "Maybe it's the butterflies…", the feeling of being in love drives one to seek to understand what exactly it is about the person they are in love with that brings that great feeling called love. A unique thrill felt with only one person and no one else is a dominant aspect.
"Closer" drives you to want to be with that one person that means the world to you. To pull them closer, hold them in your arms, forget about the whole world and all the worries, and embrace bliss with the love of your life. There is no feeling like that exciting feeling of being in sync with the love of one's life. A feeling one never wants to end.
To sum it up both "With You" and "Closer" are incredibly captivating songs that leave you with the urge to want to be in love again. You can move your body to them or even rock your head to the sounds of Ninelle. As usual, she wowed the audience which she left wanting more.
"With You" and "Closer" are now streaming live on all music platforms.
Listen Now "With You"
Listen Now "Closer"
Ninelle's Instagram
FDFR Team
feeldaflava records
+1 305-514-0787
email us here
!function(f,b,e,v,n,t,s)
{if(f.fbq)return;n=f.fbq=function(){n.callMethod?
n.callMethod.apply(n,arguments):n.queue.push(arguments)};
if(!f._fbq)f._fbq=n;n.push=n;n.loaded=!0;n.version='2.0′;
n.queue=[];t=b.createElement(e);t.async=!0;
t.src=v;s=b.getElementsByTagName(e)[0];
s.parentNode.insertBefore(t,s)}(window, document,'script',
'https://connect.facebook.net/en_US/fbevents.js');
fbq('init', '251889322717210');
fbq('track', 'PageView');