New couple alert?? Possibly…
We may be on the precipice of a new young celebrity relationship, as Shawn Mendes and Sabrina Carpenter were spotted "clearly" on a date last Thursday! Social media gossip account DeuxMoi posted a juicy tip on Sunday from an anonymous source, who claimed:
"spotted Shawn Mendes and Sabrina Carpenter on clearly a date at Horses"
Related: Kendall Jenner Likes How 'Different' Bad Bunny Is From Other Guys!
The alleged eyewitness added: 
"Sabrina was in a little brown mini skirt and clearly was Shawn newly shaved head wearing white sweater. they were verrrrry comfortable"
Ooh, "verrrrry"? That's a lot of Rs… See the full tip (below):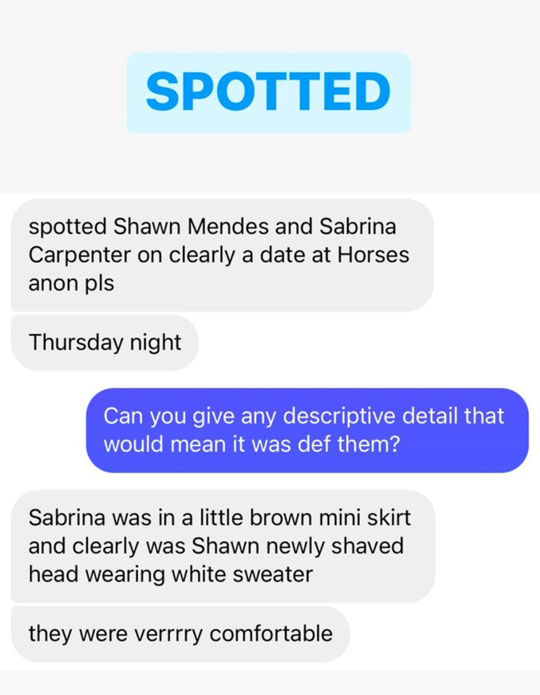 Inneresting! While there were no official pics or videos to cement the speculation, the two DO follow one another on Instagram, and were recently both in attendance of a star-studded Grammys after party. Shawn is said to have attended with his 51-year-old chiropractor, Dr. Jocelyne Miranda, who he's been rumored to be dating for the last few months. Could it be possible he ditched her for someone a bit more age appropriate?? 
As you know, the 24-year-old and longtime girlfriend Camila Cabello announced they broke up back in November 2021, leaving them both single and ready to mingle. Shawn seems to have been wrapped up in a romance with the chiropractor who is more than twice his age, but maybe that was more of a no-strings-attached type fling? He hasn't officially dated anyone since Camila.
Related: Camila & Dating App CEO Are OVER! Here's How It Was Confirmed!
As for the 23-year-old Nonsense singer, she was rumored to be dating actor Dylan O'Brien after going her separate ways from Olivia Rodrigo's ex and fellow Disney actor, Joshua Bassett.
As the speculation should be taken with a grain of salt until further evidence is provided, fans quickly jumped on Twitter to give their takes:
"shawn mendes and sabrina carpenter are dating????"

"i come online to hear shawn mendes and sabrina carpenter were on a date? this is spotting dylan and sabrina making out all over again…"

"shawn mendes & sabrina carpenter dating was not on my bingo card this year."

"What's with the Sabrina Carpenter and Shawn Mendes Thingy? How many chapters have I missed?"
One sarcastic fan even joked, "you're probably with that blonde girl," referencing Rodrigo's classic breakup song Driver's License, which is said to be a dig at Carpenter. Only this fan posted it with a photo of her and Camila! See (below):
you're probably with that blonde girl pic.twitter.com/asJwzFMBit

— ???? ANELE DAY (@allsoinnocent) February 19, 2023
LOLz!
See some more reactions to the rumor (below):
Shawn Mendes and Sabrina Carpenter are WHAT?? pic.twitter.com/7wosbi0ZIW

— Aquarius' Groove (Ricky's Edition) (@monetsupremacy_) February 19, 2023
shawn mendes and sabrina carpenter? bad bunny and kendall jenner? pic.twitter.com/WjAe4OsMUa

— j (@rojasjaron) February 19, 2023
Sabrina carpenter is dating shawn mendes????
pic.twitter.com/rWmdNNu0xz

— marj ???? (@didi7l) February 19, 2023
shawn mendes when the internet finds out he might be dating sabrina carpenter pic.twitter.com/LlViyiwoUD

— junie ⚢ (@djoschange) February 20, 2023
Shawn Mendes and Sabrina Carpenter
I vote for #TTJFCShawnMendes pic.twitter.com/RB9La91Dg8

— Loli (@loli98__) February 19, 2023
Do YOU think there's a spark between the two? Is it all just a misunderstanding? Could it all be for PR??? Share your thoughts in the comments down below!