The "Stranger Things" prosthetics team and Jamie Campbell Bower, the actor behind season four's new villain Vecna, deserve props for pulling off such an intricate costume. With a face that looks like an illustration out of a biology textbook, the supernatural entity is eerie, to say the least, with a humanoid shape, a skull face, and tentacles. For some viewers, Vecna is already a source of inspiration for Halloween costume ideas.
"I've read quite a few comments about Vecna attending the Met Gala wearing this, and I'd honestly love to see it."
Take Elien, aka Lie, for example. A full-time costume creator and cosplayer from Germany, Lie decided to create an Upside Down-themed dress fit for an avant-garde runway. After finishing the first half of season four and spotting a video of Bower getting into full costume on Twitter, Lie, who's been sewing since she was 14, quickly got to work piecing together bubble wrap and recycled plastic to construct an equally haunting look.
"[The show's writers] shared a behind-the-scenes photo and said they built large parts of the Upside Down set using pool noodles, bubble wrap, and the like," Lie tells POPSUGAR. "A friend of mine had just moved and had a bunch of leftover plastic and bubble wrap, so I thought, 'Wait, I could turn this into a dress.'"
To get started, Lie constructed the bodice out of a thermoplastic modeling material called Worbla. She then used various plastic sheets, bubble wrap, wire, and copious amounts of hot glue to create the "vines" running along the skirt of the gown.
"Painting the dress was definitely the most difficult and most annoying part, simply because the dress is so huge," she says, adding that she used acrylic paint and wood glue to turn the gown its shades of rusty red, plum, and magenta. "I couldn't use any spray paint, so I had to paint all of it by hand using only brushes."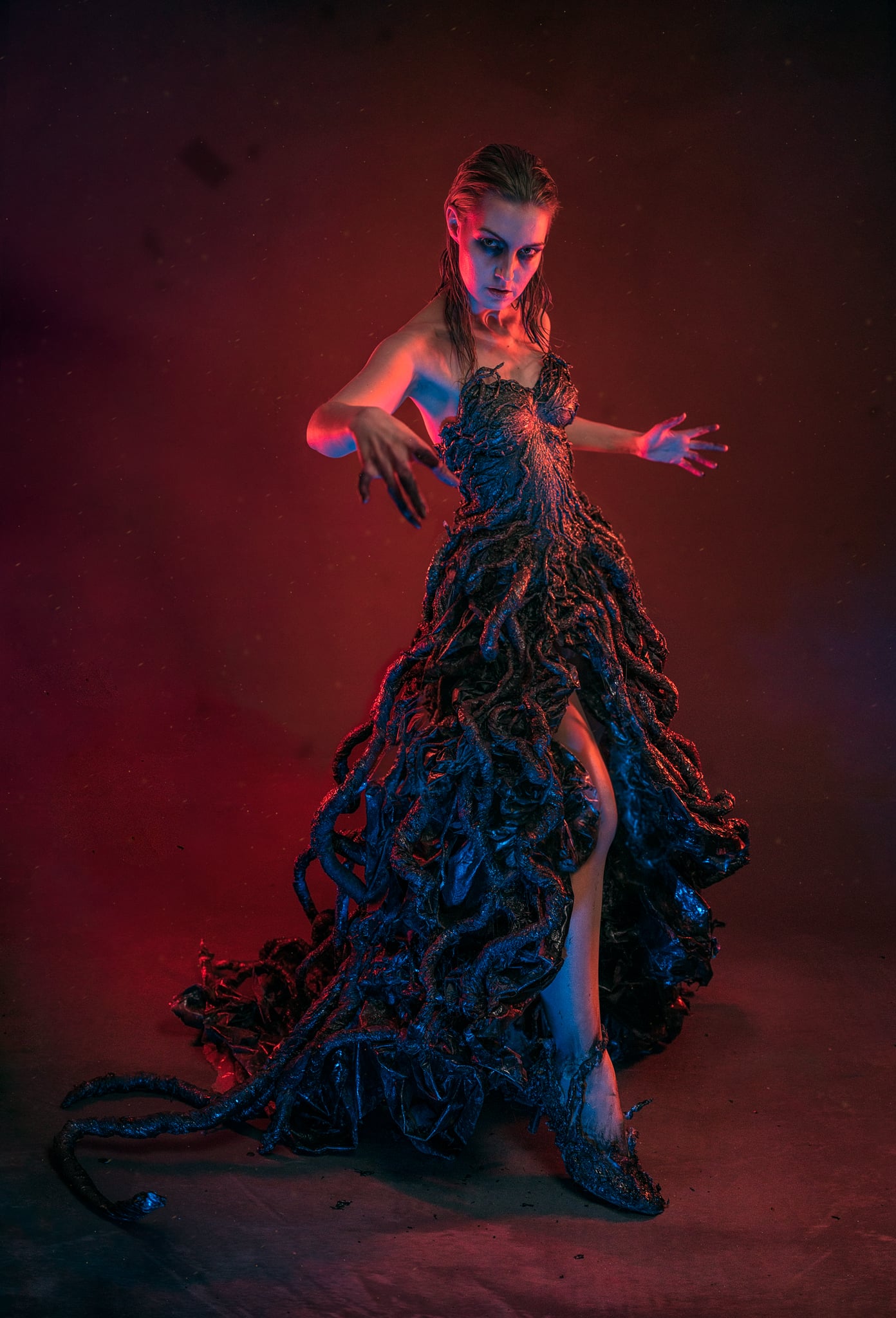 Image Source: Sebastian Weißbach
After only two weeks of construction, Lie finished the dress — and a pair of matching shoes — ahead of the second installment of season four, earning high praise from fellow "Stranger Things" fans, some of whom have commissioned requests to place their own orders. "I've read quite a few comments about Vecna attending the Met Gala wearing this, and I'd honestly love to see it," Lie says.
While the design is fairly comfortable, Lie says the bodice is notably stiff, making it impossible to sit while wearing the garment. For now, she's happy to keep the dress in her closet, adding that it would be difficult to bring it to a cosplay convention anyway. "It's more like a huge, wearable sculpture, and I can't fold it or put it in a suitcase, so I haven't figured out a good way to properly transport it yet," she explains.
As thousands of followers marvel over the intricate details of the gown, Lie is already planning her next project influenced by "Lord of the Rings": an Eye of Sauron-inspired haute couture dress with a flame chiffon train.
While we await her next design, check out the step-by-step process of making this "Stranger Things"-themed Upside Down dress ahead.